(Atlanta, GA) – The LIBRE Initiative Action's recent endorsement for Herschel Walker in the Georgia Senate Runoff Election has gained national attention from NBC, CNN Español, and Newsweek.
Some Excerpts from The News Stories:
NBC News | Nicole Acevedo: Groups ramp up efforts to mobilize Latino voters in Georgia Senate runoff election
"David Casas of the conservative grassroots group The LIBRE Initiative Action in Georgia is aiming to show Hispanic voters the economic policy differences between Walker and Warnock.
LIBRE spokesperson Ciara Kennedy-Mercer said in an email Wednesday that the group plans on doing this mainly through media and digital advertising as well as social media 'to highlight how Herschel Walker's policy positions would be better to generate economic growth and opportunities.'
'Additionally, we are knocking doors with Americans for Prosperity-Action,' another conservative grassroots group, Kennedy-Mercer said." Read the complete NBC News article here.
Newsweek | Adrian Carrasquillo: Warnock Campaign, Allies Try to Squeeze Out More Latino Voters for Runoff
"The LIBRE Initiative Action, a conservative grassroots group that is active in key battleground states, told Newsweek it is engaging Hispanics on the Georgia runoff with a 'laser-focused economic contrast between the candidates on jobs and the economy' and why they believe Warnock does not hold the right policy positions to take the community on the best economic path forward." Read the full Newsweek story here.
CNN Español | Gustavo Valdes: Conoce qué está en juego en la segunda vuelta electoral en Georgia
Watch the full interview here.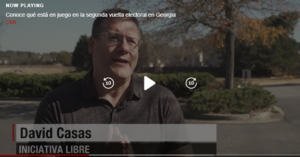 Pictured: David Casas, director of grassroots operations for The LIBRE Initiative Action-Georgia.